"Unlocking Success: The Power of Key EVPs in Attracting and Retaining Top Talent"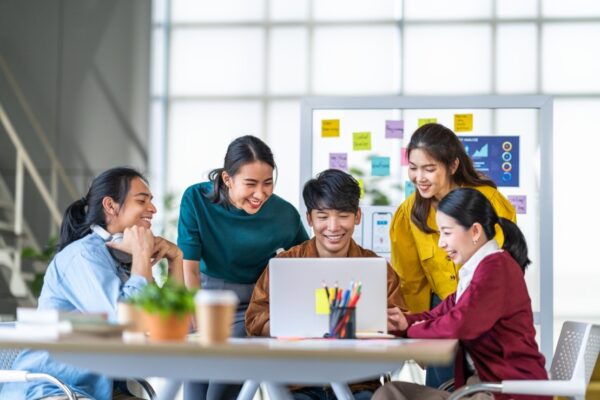 Today's job market is extremely competitive, and employers in all sectors are doing everything they can to find and keep the best candidates. The days of merely offering attractive salary and perks packages are over. To differentiate themselves from the competition and become the employer of choice, businesses need to create an Employee Value Proposition (EVP) that speaks to the needs of prospective employees. Learn why APlus Career recruiting, a market leader in Thailand's recruiting industry, thinks it's so important for businesses to have a strong EVP if they want to attract and keep the best employees.
The Essence of an EVP and Its Impact
Before we dive into the benefits of a key EVP, let's start by understanding what an EVP is. An Employee Value Proposition represents the comprehensive set of benefits, rewards, and opportunities that an organization offers to its employees in exchange for their skills, dedication, and commitment. It encompasses a wide array of factors, including company culture, professional development, work-life balance, and more.
The Strategic Importance of a Key EVP
Attracting Top Talent:

In today's candidate-driven market, attracting exceptional talent requires more than just competitive compensation. A compelling EVP acts as a powerful magnet, drawing in high-caliber candidates who align with a company's values and vision. By effectively communicating the unique aspects of the work experience and growth opportunities, companies can position themselves as desirable employers in the eyes of potential candidates.

Retaining Valuable Employees: Once companies have recruited top talent, retaining them becomes paramount. A strong EVP plays a pivotal role in fostering employee engagement, satisfaction, and loyalty. When employees feel valued, supported, and inspired, they are more likely to remain committed to the organization for the long term. A key EVP ensures that employees see their future aligned with the company's vision, encouraging them to invest their skills and talents into the organization's success.
 Key Elements of a Powerful EVP
Company Culture: A vibrant and inclusive company culture is a driving force behind employee satisfaction and productivity. An EVP should highlight the unique aspects of a company's culture, emphasizing values such as collaboration, diversity, and innovation. By showcasing a positive work environment that encourages teamwork and personal growth, companies can attract and retain talent that resonates with their cultural identity.

Professional Development: Employees are constantly seeking growth opportunities to enhance their skills and advance their careers. An effective EVP should demonstrate a company's commitment to nurturing its employees' professional development. This can be achieved through mentorship programs, training initiatives, and clear career progression pathways. By investing in employees' growth, companies create an environment that fosters loyalty and drives employee engagement.
Work-Life Balance: Achieving a healthy work-life balance is a priority for many individuals. A strong EVP should highlight initiatives that support work-life balance, such as flexible working hours, remote work options, and employee wellness programs. By prioritizing the well-being of their workforce, companies create an environment where employees can thrive both personally and professionally.
Total Rewards Package: While salary is not the sole focus of an EVP, it remains an essential element. A competitive compensation package, coupled with comprehensive benefits and rewards, demonstrates a company's commitment to recognizing and rewarding employees' contributions. A well-crafted EVP should showcase the attractive components of the total rewards package to attract and retain top talent.
In today's highly competitive personnel landscape, businesses have to harness the power of a strong employee value proposition (EVP) in order to recruit and keep excellent people. A strong EVP enables businesses to differentiate themselves from competitors by effectively communicating their distinctive services and demonstrating their dedication to the development and well-being of their workforce. Companies are able to ensure the best retention rates and the most sustainable growth of their personnel if they link their EVP with their cultural values, as well as with professional talent management and development.
Nina has over 15 years of experience working in Executive Search and running recruitment teams. She has extensive expertise servicing clients in a variety of industries, including the manufacturing, automotive, electronics, chemical, retail, and life science industries. APlus Career Recruitment Co., Ltd. was recently established by Nina as a boutique recruitment agency in 2022. The company serves clients in the areas of recruitment and HR solutions.  Contact us for additional details.